BPK-000
LCD Serial Backpack
Display Interface
Convert non-Seetron text LCD to serial input. Connection: power, ground and serial (RS-232/ inverted-TTL at 2400 or 9600bps). Available as a chip for OEM integration (BPK-DIP, -SOI).
In Stock, 9.00-29.00 Buy Now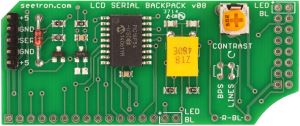 Links to Complete Documentation
BPK-000 Basic Specifications
| | |
| --- | --- |
| Power Requirements | 4.8 to 5.5Vdc at < 0.5mA |
| Serial Input (electrical) | RS-232 (±15V OK), inverted TTL |
| Serial Input (logic/data) | Inverted, 2400 or 9600bps |
| User Connector | 5-pin header, 0.025in. posts on 0.10in. centers |
| Connector Pinout | +5V Gnd Serial Gnd +5V |
| Operating Temp. | -40° to +85° C (-40° to 185°F) |
| Application | Convert non-Seetron text LCDs to serial |
| Supported Displays | Character LCDs up to 4 lines x 20 characters |
| Overall Size (wxh) | 69x29mm (2.72x1.14in.) |
| Add'l Info Link | BPK-000 Documentation |
Update: BPK-000 Version 8.0
Version 8.0, a minor hardware upgrade, rolled out in Dec. 2014. The pcb layout is slightly different, but the placement of all connectors (I/O and LCD) remains the same. Pins 15 and 16 have been added to the standard LCD interface headers to permit easy connection of common LED backlights. Cuttable jumpers replace DIP switches for LINES and BPS configuration (cut=OFF).
BPK-000 Application and Use
BPK-000 LCD Serial Backpack™ is a generic serial interface for standard text-mode LCDs up to 80 screen characters. It is not needed for Seetron LCDs—all of them have a serial interface installed. BPK-000 may be added to an inexpensive parallel-interface LCD to give it the capabilities of our BPI-216 products.
To install BPK-000, solder the included header pins to either the 1x14 or 2x7 interface header of the LCD module. On power-up, BPK-000 will send the LCD the necessary instructions to initialize the controller and make it ready for use. After initialization, text sent serially to the BPK will be printed to the LCD.
LCDs understand a range of formatting instructions. These instructions are ordinary data bytes, just like text. To distinguish instructions from text, the LCD requires that a register-select bit be set. Sending ASCII 254 (0xFE hex) tells BPK-000 to set this bit so that the LCD will process the next byte as an instruction rather than text. See the documentation for more information.
If placed now, this order will ship (checking...).
Updating Cart