Brilliant Blue OLED Joins Lineup
Please welcome the newest member of the GLO-216 serial-OLED family, the GLO-216B with brilliant, sapphire blue pixels. It shares the family traits of easy, versatile serial input (inverted, noninverted, RS232 or UART, at 9600-38,400bps); multiple font sizes; superior contrast; and immediate, no-leadtime delivery.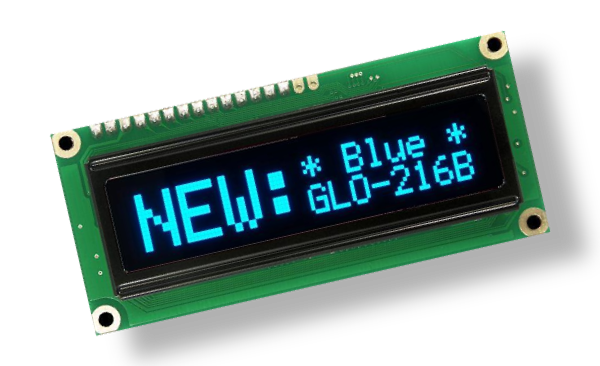 Faceplates on eBay
Looking for small quantities of faceplates to fit 2x16 and 4x20 LCDs—even generic models not supplied by Seetron? Check out our eBay listings. Their online bazaar is becoming our go-to for small orders.
Tech Blog: Semicustom
Recently we've helped several customers with tricky require­ments by swapping out connectors or modifying firmware for address­ability or even emulation of obsolete displays. Can we help you? Email tech@seetron.com.
Easy Online Ordering
Purchasing pros take note: The products page is now a full-line catalog. Previously ordering required wading into a particular product's specs to find the buy button; now it's all in one place.
If placed now, this order will ship (checking...).
Updating Cart